Juan II

Replication of the Flood of 85

October 19th, 9:00 A.M until noon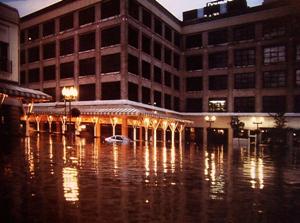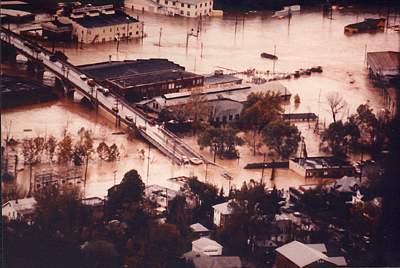 Almost 28 years ago, heavy rain from the remnants of Hurricane Juan combined with a low-pressure system over southwest and central Virginia to cause record-breaking flooding that killed 22 people and caused about $800 million in damage.

Rain lasted from Oct. 31-Nov. 6, 1985. The flooding that resulted is one of the worst-ever river floods in Virginia. Often called the Election Day Flood, the disaster hit the Roanoke Valley especially hard and disrupted Nov. 5 elections. The Roanoke River crested at 23 feet; boats and helicopters rescued people from chilly waters and plucked them from rooftops. 

The James River exceeded previous flood records near Lynchburg and also flooded several blocks of downtown Richmond. At least 50 Virginia localities experienced widespread damage to buildings, roads, bridges and other structures. A total of 1.7 million people were affected.

"The Election Day Flood set many records and brings back vivid memories to many people," said Michael Cline, state coordinator for the Virginia Department of Emergency Management. "For those of us involved in emergency response, we especially remember the extensive use of helicopters to rescue people from rising water."

Above is a photo of the "Flood of 85" at the downtown Roanoke City Market

"Flood of 85" as viewed from the air.  This is a photo of an area near the downtown business district of Roanoke Va.

Our simulated emergency test (SET) will be based on a simulation of responding to a disaster like the "Flood of 85".  This will be involving a number of agencies with the American Red Cross being the lead agency.  This will test the readiness of the Virginia Mountain Region of the ARC in responding to this simulation.  This region encompasses 50 counties and a number of cities within Virginia.  One of the primary goals will be to assess the ability of the Amateur Radio emergency community to work together with the Red Cross in providing dependable communications support between shelters, Emergency Response Vehicles (ERVs), chapter houses, the regional Red Cross office and partner agencies.  If you are a licensed Amateur Radio operator and would be interested in participating in this training, click on the top button, with the title "Registration".  This form is also setup to allow agencies to register for participation.  Go to the form today and register your agency.




This page was last updated: December 29, 2014




Check the "Juan II News" button frequently.  Last change was made on 10/11/2013.  Other pages are also changed as additional information is available.

If you have questions, email me HERE